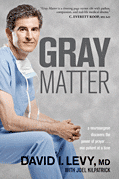 This book, written by neurosurgeon David Levy, MD, and Joel Kilpatrick, is an account of Dr. Levy's decision to live openly for Christ and to pray for his patients. Written in a warm, first person style, this anecdotal account of Dr. Levy's experiences are a joy to read. Although the book contains medical terms and descriptions, they only add to the flow of the book—and I actually learned some interesting medical information.
I thoroughly enjoyed this book! With transparency, Dr. Levy shares his journey from being a car mechanic to going to college to become a brain surgeon, and how he transitioned from believing in God to putting faith in medicine to surrendering his control back to God.
I loved the stories about his patients, and at one point I almost wept at how one patient opened up to God in Dr. Levy's office. His accounts are inspiring, and he offers a great example for the rest of us to follow.
Additionally, Dr. Levy shares much about his personal and professional life, sharing his struggles and doubts. Sprinkled throughout are spiritual nuggets that stuck with me. My favorite quote is from page 56:
"Guilt comes naturally when we sin, and you can try to pay for sin yourself by feeling shame, or you can let Jesus pay for it and be forgiven."

I love the picture that this gives of us trying to pay our sin-debt by feeling bad about what we've done. Having wasted years beating myself up over stupid choices, this quote was particularly meaningful to me.
I highly recommend this book to everyone, but especially to those who feel that belief in God is not for highly-educated people.
Thanks to the publisher, Tyndale, for providing me with a complimentary copy of this book in exchange for an honest review.