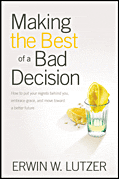 From the publisher:
Maybe you worry you've married the wrong person. Maybe you're carrying the burden of a secret or have gone down a dangerous road. Maybe you've made a life choice that's hurt someone else so badly you feel the relationship can never be restored. But there's good news: you have the opportunity to clear your conscience, make things right with God and others, and get to a place of grace and new beginnings. Join pastor and bestselling author Erwin Lutzer as he shows you how to make the best of even your worst decisions and move forward into a better future.
Read the first chapter
here.
This book is about how to recover from bad choices, from a biblical perspective. Obviously, we all make decisions, at some point, that we regret. The good news is that "there is more grace in God's heart than there is sin in your past" (pg 87). "Forgiveness and reconciliation with God are given freely, apart from what we have done or who we are," and "The work of Christ is the one and only basis of our forgiveness. Neither our goodness nor our badness affects this objective fact," (pg 13).
That's great encouragement for anyone who struggles with beating themselves up over bad choices, especially when the consequences of those choices are still with you.
A discussion guide at the end of this book helps to process and apply the truths that are stated within. This would be good for an adult Sunday school class or a Bible study group.
I received this book for free from Tyndale in exchange for an honest review.