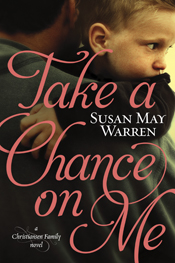 This first novel in the new Christiansen Family series centers around the story of Darek Christiansen, whose wife, Felicity was killed in a tragic accident by his best friend.
The new assistant county attorney, Ivy Madison, doesn't know who Darek he is when she bids on him during a charity auction.
The tension mounts as Darek and Ivy form a relationship. She was the one who kept his wife's killer out of jail and doing community service.This, coupled with other subplots, make it an interesting read. And, one of the things I like best is how the author incorporates truth from God's word without sounding didactic or preachy.
It's a fun, romantic read, without being sappy or too predictable. I enjoyed this book, and I would like to read more from the author. (This book contains a preview of the second one in the series, "Walk On By.")
Here's what the author has to say about her inspiration for this story and the main character:
"As I started to put together this series, I began to think about our culture and our children today. I started to take a look at the big questions we are faced with as parents – and as young people; the issues that affect us as a culture, as well as personally. I wanted these books to go beyond family drama, beyond a great romance to raise bigger questions and stir truths that we might pass along to others. This story is about our propensity in our culture to blame others for what goes wrong in our lives – and how this alienates us from each other, and ultimately, God. Darek is the oldest brother in the family; the leader and a real hero. He's a wildland firefighter and a widower who's had to give up his job to come home and run the resort and care for his young son. Darek doesn't realize he has a problem – he lives with anger on his shoulder, hating the man who killed his wife (his best friend). His real problem is that he can't forgive himself. In this first story, readers meet the family, hang out at the resort and discover that God can redeem even a heart of stone, if we take a chance on Him."
Want to here more from the author? Click
here
, where you can read the rest of the author interview.
You can read a PDF excerpt by clicking
here.
And you can buy a copy
here
.
Thanks to the publisher, Tyndale, for giving me a free copy in exchange for my honest review.